To strengthen information dissemination regarding real time updates, status of incoming and ongoing research in response to COVID-19 pandemic, the Philippine Council for Health Research and Development (PCHRD) of the Department of Science and Technology (DOST) developed the COVID-19 (Communication, Ongoing projects, Research Information) CORe Portal.
Through this portal, the public can now readily access latest updates on coronavirus research, news and other related information for timely decision making. It compiles evidence-based information on coronavirus, local and international researches, policies, webinars and local healthcare facilities in response to the pandemic. The portal also provides its users access to different COVID-19 trackers and useful links from recognized local and international resources such as World Health Organization (WHO), John Hopkins University and University of the Philippines.
Helping our researches to have an easy reference for accurate and updated information on COVID-19 will boost generation of new ideas that may result to innovative solution to fight this pandemic. This free portal can be readily accessed at http://covid19.healthresearch.ph/.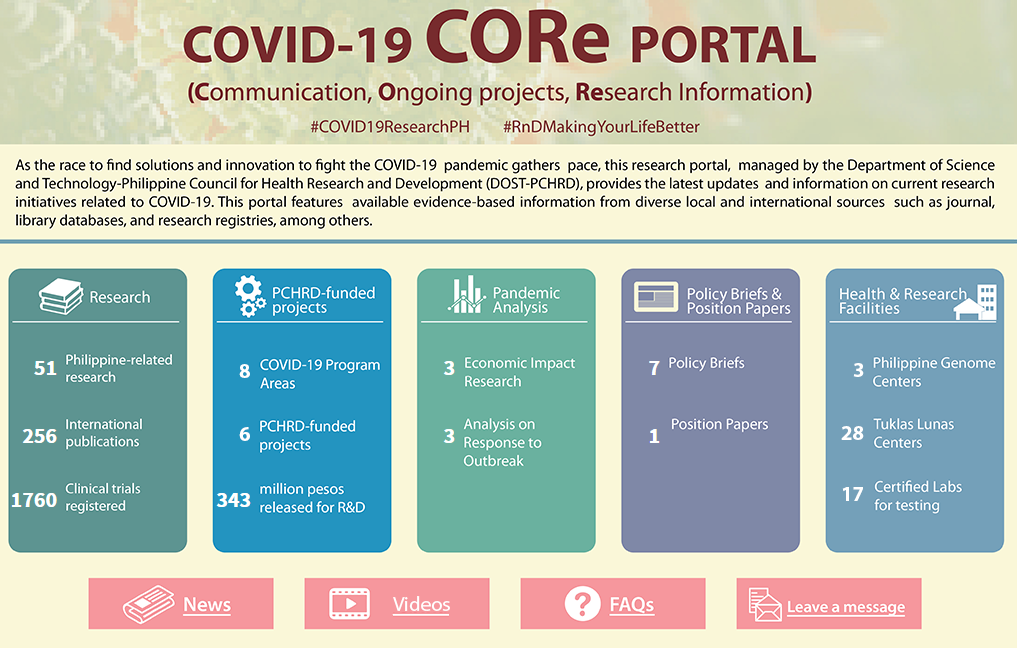 Written by: Mr. Fredric S. Cadungog